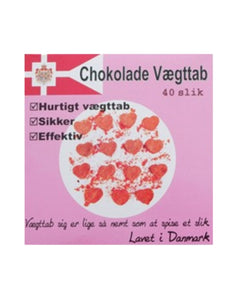 Chokolade Vaegttab
Chokolade Vaegttab
Regular price
$45.00
$0.00
Unit price
per
Vægttab weight loss chocolate is a product made in Denmark with the main ingredients of natural ingredients, packaged in the form of candy, making it easy for people to use. When it comes to weight loss pills, many people mention Danish weight loss candies, but this is actually a fairly easy-to-eat weight loss candy. According to some people who have used it, users find the taste of this candy quite similar to Milo milk so it is easy to eat and helps to lose weight effectively.
Ingredients of chocolate candy lose weight Denmark
Ingredients of chocolate candy lose weight completely from natural herbs so do not cause side effects, fatigue or harm.
+ The main ingredient from black cocoa helps support rapid weight loss. Cocoa has the ability to enhance metabolism, helping to convert carbohydrates into energy instead of accumulating fat. Not only does it support metabolism, cocoa also helps you reduce cravings, if you use cocoa before meals.
+ In chocolate candy weight loss also has Hoodia gordonii helps create feelings of fullness, limiting appetite to help lose weight effectively.
+ In the chocolate candy weight loss Danish also contains Glucomanna, Gluggul, Gymnema Sylvestre, Triphala have the effect of helping to reduce excess fat and weight loss for obese people.
The effect of chocolate weight loss Vægttab candy
Whether or not Danish candy for weight loss is good will be demonstrated by its use. Dan Dan weight loss chocolate is made mainly from natural ingredients so it is safe for those who want to regain slim body. Products used to lose weight, reduce excess fat in the body. The fat is excreted through sweat glands under the skin.
+ When using chocolate candy to lose weight, the ingredients in chocolate will help reduce cravings, thereby limiting the ability to load more food into the body.
+ Moreover, you should also limit the use of greasy, sweets and sugary foods while using Danish candy for weight loss.
Instructions for using Danish chocolate weight loss Vægttab
Reducing the balance of dark chocolate will work faster if you do it properly. In the morning instead of using a breakfast like the average, then you should eat chocolate candy to lose weight helps provide enough energy for the body to operate during the half day. When using chocolate candy to lose weight will help you control your diet as they create a feeling of fullness, making you eat less than usual.
Eating Danish weight-loss chocolate makes the lovers of this sweet treat excited because they think that they can satisfy their culinary passion without worrying about weight gain. Do not overdo it as this may affect your health. And you should not eat at night because it will be difficult to digest and face the risk of weight gain.

Product of Denmark
---
Share this Product
---