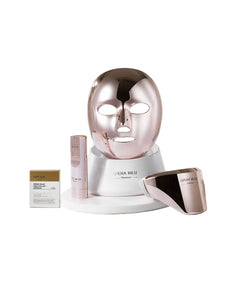 LEBODY
OPERA MILUX Premium LED Face Care Mask
Regular price
$500.00
Sale price
$700.00
Unit price
per
LEBODY OPERA MILUX Premium LED Face Care Mask
Benefits
Anti-wrinkle

Acne removal
Providing elasticity to the face
Adding shine and vitality to the skin
Tightening the skin
Providing collagen increase
There are 3 different LED lights that provides treatment for wrinkles, acne, tone equality and spots in the face and neck area.
RED LIGHT Increases collagen and elastin production in the skin and accelerates fibroblast activity. It helps to strengthen capillary blood vessels for anti-aging and increase oxygen flow to skin cells and accelerates cell metabolism.
BLUE LIGHT It works for the treatment of acne and inflamed acne on the skin, oily skin. After the first care, it is seen that the pimples are extinguished, the skin is relaxed and the skin color is lighter. It kills bacteria that cause large and clogged pores, skin spots.
PINK LIGHT Removes pigmentation defects on the skin, strengthens the walls of capillaries and soothes reddened skin due to the appearance of veins on the skin surface. It provides a fresh and bright skin color. It provides nutrition to the skin and shortens the wound healing process.
Package includes:
Lebody Opera Milux Premium LED Face and neck device
Controller
Charging cables
Face and neck stand
User guide
Gold Collagen Ampoule 30ml
Product of Korea
---
Share this Product
---